ARNTZ GmbH + Co. KG is a medium-sized, internationally operating family-owned company in the 7th generation of Remscheid's oldest tool manufacturer, majority-owned by the founding family.
With its headquarters in Remscheid, ARNTZ can look back on 225 years of the company's history.
180 employees in 4 locations produce high-performance band saw blades that saw the most diverse material choices and ensure accurate cuts in more than 80 countries every day.
For example, the double H-beams for New York's "One World Trade Center" in Manhattan were cut in length with ARNTZ band saw blades.
ARNTZ band saw blades are found in all areas of metalworking, from sawing medium-sized pipes and profiles to titanium forging as a raw material for artificial hip joints.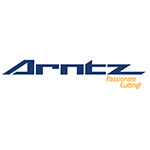 Are you in need of sawblades for your sawing machine?
WE STOCK ARTNZ SAWMILLS IN SWEDEN WITH DAILY DELIVERY
Download product catalogue here